Amnesty International has unveiled a new collection of T-shirts in recognition of female activists who are fighting for women's rights around the world last year in November.
The range, which has been launched in collaboration with online retail marketplace Everpress, marks 100 years of women's suffrage in the UK.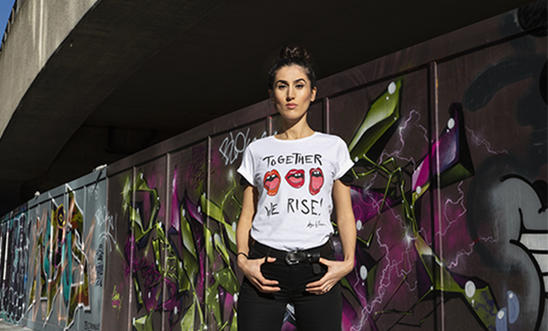 The T-shirts have been created by nine female and non-binary artists, with the designs representing various important topics such as women's reproductive rights, online abuse and intersectional feminism.
The collection titled the 'Rebellion' T-shirt project has been released as part of Amnesty International's Write for Rights campaign, an annual letter sent out by the organisation that raises awareness for women who are currently imprisoned or experiencing harassment due to their dedication to human rights.
Some of those women include those in Northern Ireland affected by the country's abortion law and those who've received threatening messages on social media.
"Sexual harassment, the denial of reproductive freedoms and gender-based online violence are just a few of the abuses women, trans and non-binary people face every single day. But around the world people are rising for their rights," says Kate Allen, director of Amnesty UK.
See the full collection here